Buying a Home This Spring
The housing market recovery has been nothing short of remarkable. Many experts agree the turnaround from the nation's economic pause last year is playing out extremely well for real estate, so it's an ideal time to buy a home for those who are ready to make a purchase. Here's a dive into some of the biggest wins for homebuyers this spring.
1. Mortgage Rates Are Still Low
In 2020, mortgage rates hit all-time lows 16 times, falling below 3% for the first time ever. Continued low rates in the early part of this year are setting buyers up for significant long-term gains. According to Freddie Mac:
"Optimism continues as the economy slowly regains its footing, thus affecting mortgage rates. Though rates continue to rise, they remain near historic lows."
Essentially, it's less expensive to borrow money for a home loan today while rates are low. This is a huge opportunity for buyers to capitalize on right now.
2. Buying Is More Affordable Than Renting
This trend of low mortgage rates has made the typical monthly payment (including principal and interest) less expensive for buyers. According to Odeta Kushi, Deputy Chief Economist for First American:
"The low mortgage rates and income growth spurred an 18.9 percent increase in housebuying power compared with a year ago."
Buying a home now versus renting one may be a game-changer as it amplifies long-term savings for homeowners. When paying a mortgage as opposed to paying rent, that money is reinvested back in your favor, so you're contributing to your own net worth when you own a home. This is a term called equity, and it's one of the biggest financial benefits of homeownership.
3. Equity Is Growing
The Homeowner Equity Report from CoreLogic notes that the average homeowner gained $17,000 in equity in just the last year. With equity growing so significantly, you can feel confident that homeownership is a sound investment in your future.
Homeowner Equity Gains over the Last Year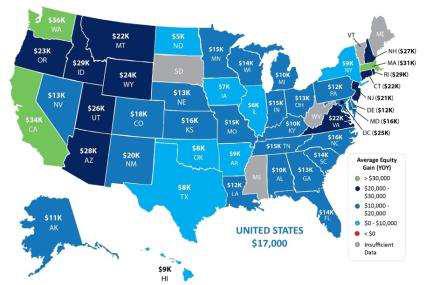 4. Home Prices Are Appreciating
According to many leading experts, home prices are forecasted to continue appreciating this year. When home values appreciate, it's another factor that increases your equity. According to Lawrence Yun, Chief Economist for the National Association of Realtors (NAR):

"The housing market was a spectacular surprise in 2020—and the positive trend will continue this year. Home sales in 2021 are expected to rise by around 10%. Home prices will also climb, but I expect more moderate increases than we've seen, a break for first-time buyers. Mortgage rates will continue to be favorable, staying at or near historic lows of 3% on average. The labor market will strengthen, especially as vaccines become widely available and life moves toward normal."


Knowing home values are increasing while mortgage rates are so low should help you feel confident that buying a home this year is advantageous from a price perspective and a strong long-term investment.
Bottom Line
If you're considering buying a home, this may be your moment, especially with today's low mortgage rates. Let's connect to assess your changing needs and set you up for success in the homebuying process.
Click
here
to view the full article.