Why You Shouldn't Wait to Sell Your House
Selling your house when the fewest number of homes are available to buy is what puts you in the driver's seat. With today's high buyer traffic and low inventory of houses for sale, this power combination makes now the optimal time to sell, if you're ready. Whether you want to move-up or downsize, here's the breakdown on supply and demand and why this imbalance in the current housing market positions this season as the optimal time to make your next move.

High Buyer Demand

Buyer demand is strong right now, and buyers are active in the market. ShowingTime, which tracks the average number of buyer showings on residential properties, recently announced that buyer showings are up 51.5% compared to the same time last year. Daniil Cherkasskiy, Chief Analytics Officer at ShowingTime, notes:

"As anticipated, demand for real estate remains elevated and continues to be affected by low levels of inventory…On average, each home is getting 50 percent or more requests this year compared to January of last year. As we head into the busy season, it's likely we'll push into even more extreme territory until the supply starts catching up with demand."


Low Inventory of Houses for Sale
Purchaser demand is so high, the market is running out of available homes for sale. Recently, realtor.com reported:

"Nationally, the inventory of homes for sale in January decreased by 42.6% over the past year, a higher rate of decline compared to the 39.6% drop in December. This amounted to 443,000 fewer homes for sale compared to January of last year."


The National Association of Realtors (NAR) also reveals that, while home sales are skyrocketing, the inventory of existing homes for sale is continuing to drop dramatically. Homes are essentially selling as fast as they're hitting the market. Below is a graph of the existing inventory for sale: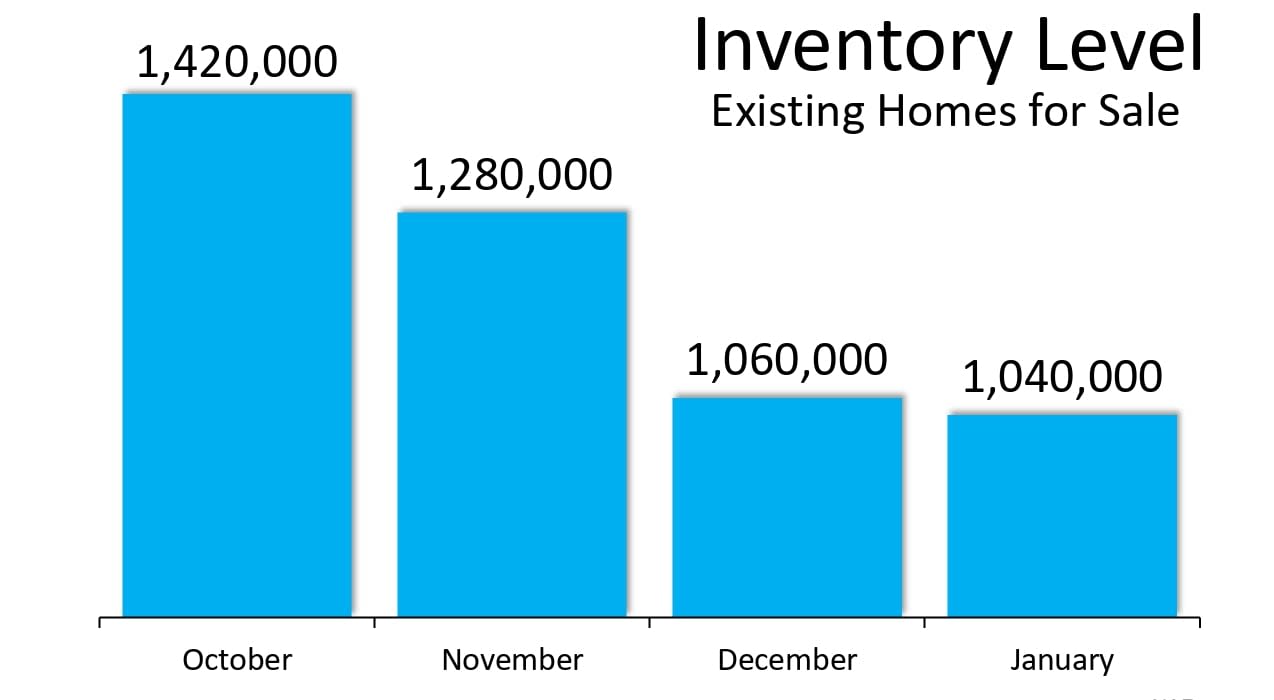 At the same time, homebuilders are increasing construction this year, but they can't keep up with the growing demand. While reporting on inventory of newly constructed homes, the
U.S. Census Bureau
notes:

"The seasonally-adjusted estimate of new houses for sale at the end of December was 302,000. This represents a supply of 4.3 months at the current sales rate."


What Does This Mean for You?
If you're thinking of putting your house on the market, don't wait. A seller will always negotiate the best deal when demand is high and supply is low. That's exactly what's happening in the real estate market today.
As 2021 progresses and the pandemic hopefully falls behind us, there will be more houses coming to the market. This includes existing homes and newly built homes. Don't wait for that increase in competition in your neighborhood. Now is the time to sell.
Bottom Line
Let's connect today to get your house listed at this optimal time to make a move.
Click
here
to view the full article.